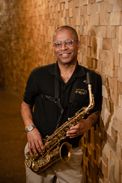 KEN SCOTT (Alto Saxophone, Clarinet, and Flute) - Kenneth Scott retired from 33 years of public school teaching in Wayne and Oswego Counties. He was an active member of NYSSMA, MENC and a NYSSMA adjudicator of woodwinds for 12 years. In 1977 Ken graduated from the Crane School of Music in Potsdam, NY with a B.M. in music education and performance. Earning a MS/CAS in Educational Administration from SUNY Oswego in 1989. Ken studied clarinet and bass clarinet with Stan Gaulke and Chester Rowell of the RPO, and clarinet with David Etheridge and Alan Woy at Crane. Other studies include saxophone with Steve Mauk, J. R. Monterose, and flute with John Oberbrunner of the SSO. He currently directs the Penfield Pops Concert Band, and the New Horizons Clarinet Choir. He's a member of the Penfield Rotary Swing Band, Rochester Metropolitan Jazz Orchestra, Music Educators' Big Band, Southern Tier All-Star Jazz Band and New Energy Jazz Orchestra.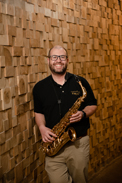 DAVE BURLONE (Tenor Saxophone, Clarinet, and Flute) - Dave is a Rochester transplant hailing from Pittsburgh, PA.  While attending RIT to earn degrees in Computer Engineering and Computer Science he participated in numerous university groups including the RIT Jazz Ensemble under the direction of Jon Kruger.  Additionally, Dave has studied jazz saxophone with Dean Keller and later Doug Stone via the ECMS.  He's a staple to a number of groups in Western NY including the Penfield Big Band & 78 RPM; performs regularly with Nik and the Nice Guys and The Uptown Groove; and can be found sitting in as a hired gun for other groups/projects.  All that said, he's very happy to be making music with the RMJO!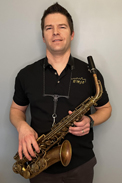 ART FELLUCA (Alto Saxophone) -  was born and raised in Chili, NY. Following high school, he enlisted in the U.S. Navy with a rating of MU (Musician) and completed 5 years of service, performing in Navy Band Northeast in Newport, RI. He then attended Berklee College of Music and New England Conservatory, earning a B.A. in Jazz Composition and a Master of Music with a Concentration in Education, respectively. After teaching privately and performing extensively around New England for several years, including two performances with the Four Tops and The Temptations, Art moved back to Rochester with his wife and two kids in 2015. He currently co-manages a busy wedding band, writes and arranges music, and performs with several bands around the Rochester area. Outside of music, he enjoys cooking, cycling, skiing, and spending time with his family.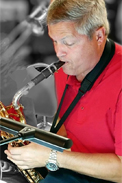 KEITH CUTRI (Tenor Saxophone) -
Keith hails from the Finger Lakes, born and raised in Canandaigua, New York.  He earned his Bachelor's Degree in Computer Science from RIT and his MBA from Boston University. A former FBI Agent and tech-savvy law enforcement official, Keith has performed on Alto, Tenor, Soprano, and Baritone Saxophones in a variety of ensembles at many local venues to include Summer Jammin', the RIT Jazz Ensemble, the Gold Dust Big Band, the Greater Finger Lakes Jazz Orchestra, the Spanky Hashman Swing Band, the Greece Jazz Band, the Gateswingers, Four on the Floor Quartet, the Ron Bowks Quintet, as well as the Rochester Metro Jazz Orchestra.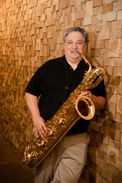 GEORGE HADGIS (Baritone Saxophone and Bass Clarinet) - George started playing reed instruments at an early age. He has played in various concert bands and jazz ensembles in his home state of Maine, plus 2 years with The Ohio State University Concert Band. In addition to The Rochester Metropolitan Jazz Orchestra, he also plays with The Gateswingers and the Greece Jazz Band. He has played with Nostalgic Reunion, the Greater Finger Lakes Jazz Orchestra, Different Every Time and Grupo Calle Uno.  He also had the opportunity to play with Prime Time Funk, New Energy, and has backed-up Hector Tricoche and Frankie Ruiz Jr. George works during the day as the Vice President of Operations and Program Management at Owl Autonomous Imaging, Inc.