Saxophones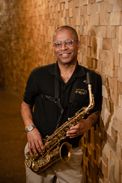 KEN SCOTT (Alto Saxophone, Clarinet, and Flute) - Kenneth Scott retired from 33 years of public school teaching in Wayne and Oswego Counties. He was an active member of NYSSMA, MENC and a NYSSMA adjudicator of woodwinds for 12 years. In 1977 Ken graduated from the Crane School of Music in Potsdam, NY with a B.M. in music education and performance. Earning a MS/CAS in Educational Administration from SUNY Oswego in 1989. Ken studied clarinet and bass clarinet with Stan Gaulke and Chester Rowell of the RPO, and clarinet with David Etheridge and Alan Woy at Crane. Other studies include saxophone with Steve Mauk, J. R. Monterose, and flute with John Oberbrunner of the SSO. He currently directs the Penfield Pops Concert Band, and the New Horizons Clarinet Choir. He's a member of the Penfield Rotary Swing Band, Rochester Metropolitan Jazz Orchestra, Music Educators' Big Band, Southern Tier All-Star Jazz Band and New Energy Jazz Orchestra.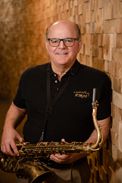 PAUL FRICANO (Tenor and Soprano Saxophone) - Paul is originally from Batavia, NY and is a seasoned veteran on the Rochester music scene. He has performed with a number of top bands in the area including Swingshift, The Flying Sideburns, Fat City, Orchestra la Fama sin Gafas, R Gang, CoMoTioN and a host of others. Paul has performed at the Rochester International Jazz Festival numerous times, has sat in with national recording artists "Smashmouth" and he also recently performed at Glen Beck's daughter's wedding!! Paul is a graduate of Cornell University and the Simon Business School where he performed in the orchestra and jazz bands. When he is not making music or riding his Triumph Bonneville Paul is a human resources executive. He also enjoys spending time with his wife and teen age children, friends and family.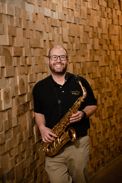 DAVE BURLONE - (Alto Saxophone, Clarinet, and Flute) -
Dave is a Rochester transplant hailing from Pittsburgh, PA.  While attending RIT to earn degrees in Computer Engineering and Computer Science he participated in numerous university groups including the RIT Jazz Ensemble under the direction of Jon Kruger.  Additionally, Dave has studied jazz saxophone with Dean Keller and later Doug Stone via the ECMS.  He's a staple to a number of groups in Western NY including the Penfield Big Band & 78 RPM; performs regularly with Nik and the Nice Guys and The Uptown Groove; and can be found sitting in as a hired gun for other groups/projects.  All that said, he's very happy to be making music with the RMJO!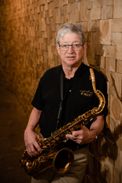 KIRK STAMP (Tenor and Soprano Sax, and Flute) – Kirk was born and raised in the Rochester Area. Kirk studied jazz performance at Hochstein School of Music and played in the Hochstein Jazz Combo. After Hochstein, Kirk attended Eastman School of Music's Community Education Program and played in their Jazz combo. Kirk has played with various bands around town including the KING BEES, THE WHITE HOTS, GATESWINGERS, SKYLINERS and is currently playing with a blues band – THE BLACK NIGHTS. Kirk retired from Xerox in 2016. Kirk holds a Master Captain's license and currently pilots the SAM PATCH on the Erie Canal as a part-time job . Kirk is an avid skier during the winter and a competitive sailor during the summer, Kirk also enjoys cooking, pickleball and cycling.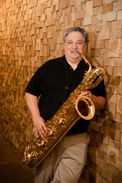 GEORGE HADGIS (Baritone Saxophone and Bass Clarinet) - George started playing reed instruments at an early age. He has played in various concert bands and jazz ensembles in his home state of Maine, plus 2 years with The Ohio State University Concert Band. In addition to The Rochester Metropolitan Jazz Orchestra, he also plays with The Gateswingers and the Greece Jazz Band. He has played with Nostalgic Reunion, the Greater Finger Lakes Jazz Orchestra, Different Every Time and Grupo Calle Uno.  He also had the opportunity to play with Prime Time Funk, New Energy, and has backed-up Hector Tricoche and Frankie Ruiz Jr. George works during the day as the Vice President of Operations and Program Management at Owl Autonomous Imaging, Inc.